Holly enjoyed her best weekend of racing so far at Donington Park, finishing in her highest position of 12th in Saturday's round 7 race, and 14th in both Sunday's rounds. In her rookie season, Holly now stands in 16th place in the Michelin Ginetta Junior Championships with a haul of 49 points so far.
Holly said:
"This was a much better weekend. Right through testing it's the closest we've been pace-wise all season and it felt a bit easier staying with the pack this time. The gain we made from Thursday through to the end of Sunday was big so that shows things are starting to come together. Again we've come away with no damage and I've scored my best finish so this is something good to build on heading into G Fest.
Saturday – Qualifying and Round 7
Qualifying saw Holly line up in 18th spot on the grid for Saturday's opener.  Coming off the back of practice at the circuit and with a lot more race craft under her belt from previous rounds, Holly finished 12th in round 7 – her best ever placing.  Saturday's race was also a team debut for Welsh 16-year-old Mckenzie Douglass. His first race for Fox Motorsport was eventful after climbing from 14th to grab a third place podium position. Harry Moss also had a great first race of the weekend finishing 11th after a mid race spin.
Watch the highlights of Round 7 on GinettaTV
Sunday – Rounds 8 and 9
Confidence was high in the team after positive performances across the board in the previous day's racing. Holly continued with controlled and trouble-free drives on Sunday finishing 14th in both rounds 8 and 9. Importantly, building consistency, confidence and experience and she continues on her journey.  Harry also managed and 11th and 12th placed finishes rounding off an excellent weekend for Holly's team mate. Mckenzie didn't manage to eclipse his third place on Saturday, narrowly missing a podium in the first race before being unceremoniously spun off by a rival in the final race of the weekend.
Overall, it was a fantastic weekend for Holly and the team who now lie in fourth spot overall.  There is no rest for Holly and the Fox Motorsport team as they have just a few days to prepare for the next rounds of the series.  This weekend will see the annual 'G Fest' at Silverstone with plenty of racing across two layouts of the legendary track.
Watch the highlights of Round 8 on GinettaTV
Watch the highlights of Round 9 on GinettaTV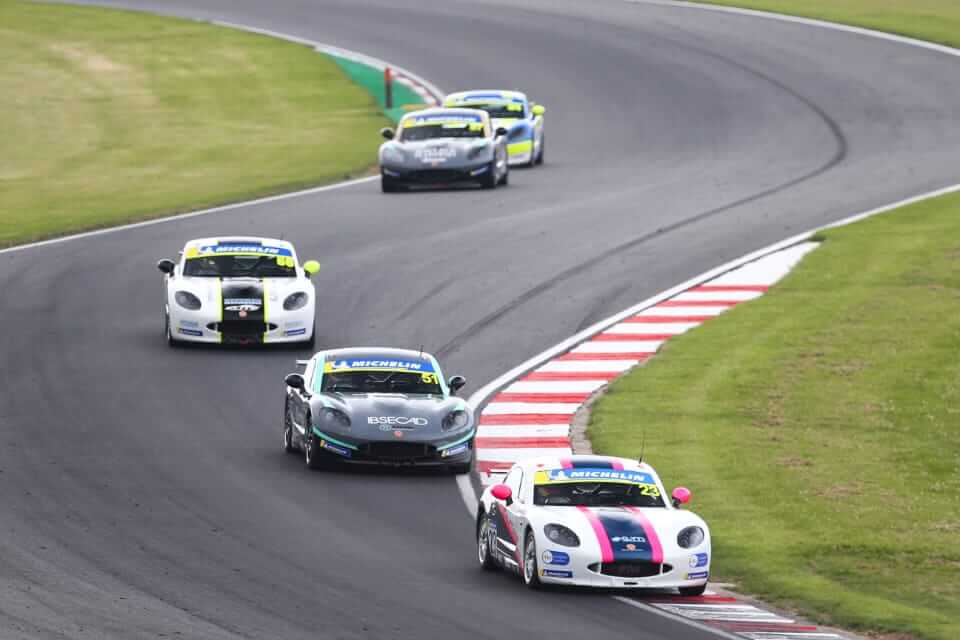 Photos by Jakob Ebrey Photography