G-Fest delivered a fantastic weekend of Ginetta action for fans old and new. One of the highlights of the race calendar, Silverstone was the venue as we celebrated the 65th anniversary of Ginetta.
With six separate races, and three lots of qualifying, this was a huge weekend in the Michelin Ginetta Junior Championships. As ever, the racing was tight with fractions of a second determining the winner in every round. Despite these close quarter battles, there were relatively few incidents and the high standard of driving was commended by race control.
Holly didn't disappoint, finishing all six races. She delivered improvements in speed and finishing order throughout the weekend whilst gaining further valuable racing experience in this her inaugural season.
Friday – Rounds 10 and 11
The action started on Friday with both rounds taking place on the full 3.6 mile Grand Prix circuit. After qualifying off of the back of the grid for both races, Holly managed to improve to 17th and 18th position respectively.
Saturday – Rounds 12 and 13
Saturday saw the racing switch to the tighter 1.6 mile National Circuit for the remainder of the weekend. Qualifying again saw Holly set off from the back of the grid for both races. But once again, determined performances saw Holly manage to climb up through the order to 16th in both races, including recovering from a spin in round 13.
Sunday – Rounds 14 and 15
Sunday saw Holly's best racing of the weekend. Her fastest times in qualifying in the Championship so far saw her start from 18th and 15th position respectively for the final two rounds of racing. She finished a very credible 15th in Round 14. At one point she was in 13th position, but couldn't hold on and slipped down in the closing laps. However, even better was to come in the final race of the weekend when she finished 14th, impressively holding off a number of faster rivals in the final laps.
Holly now lies in 16th position overall in the Championship and is looking forward to returning to racing at Snetterton at the end of the month.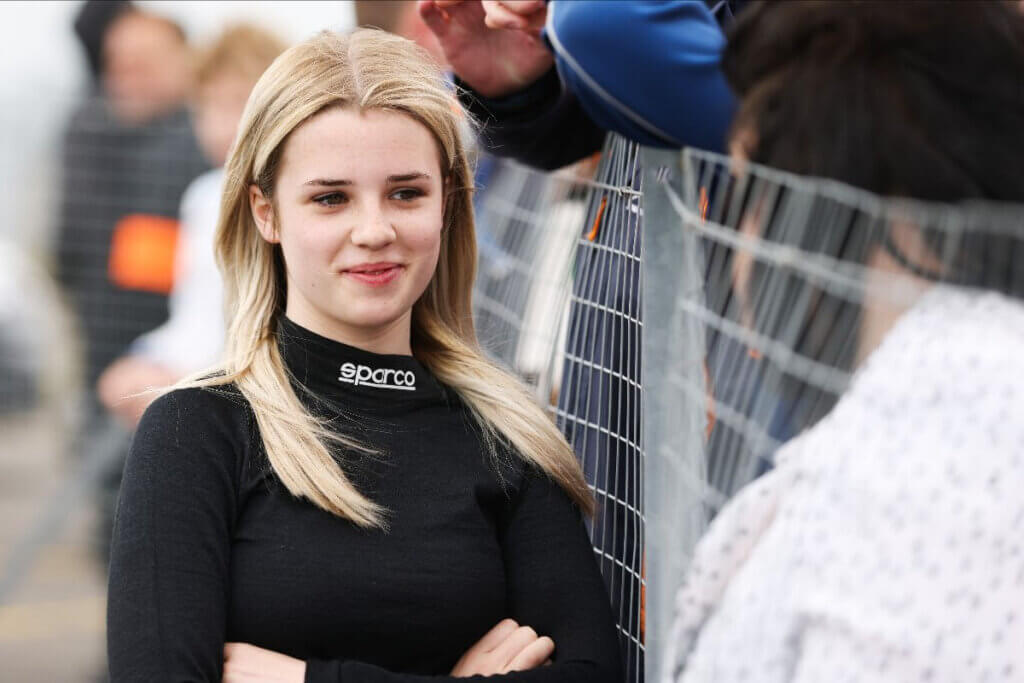 The weekend marked another successful weekend for the team with Harry Moss delivering his best qualifying results of the season and a highest place finish of 15th. Recent team addition Mckenzie Douglass was again the team's best-placed driver in qualifying and the races.
Paul McNeilly, Team Principal of Fox Motorspot, said:
"That was a pretty intensive weekend for all the drivers and crew members. Although we're quite used to six-race events, it's usually three for Juniors and three for GB4s, but as this was all for the one series, every member of the team had more to do, and that includes the young drivers. All three did well in the circumstances with Harry and Holly showing improved consistency and speed and both having their best qualifying sessions of the year and Mckenzie getting his best starting position since joining us last month. I'm confident of more progress at Snetterton."
All racing videos courtesy of GinettaTV on YouTube
Photos – Jakob Ebrey Photography