Friday – Testing
Having not raced since February we needed all the track time we could get, improving our lap times each session out, overall we had a good day in the sunshine and were building our speed ready for race day.
Sunday – Race Day
Morning Practice
The first 2 sessions were dry, unfortunately the rain came down and all the dry practice was worthless, we then went out and tried to find where the grip was in the wet.
Qualifying
We got on track towards the back of the pack, we really struggled to find the grip in the wet and after a spin lost confidence and unfortunately qualified in 11th position which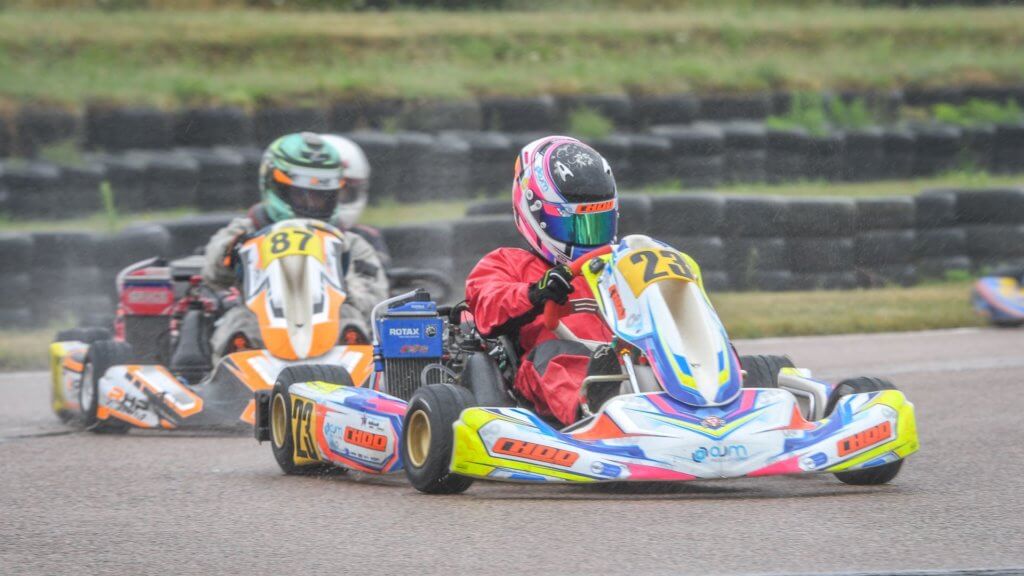 Heat 1
We got a reasonable start and stayed with the pack, making up 2 places in the first 2 laps and another on lap 3 and 5 finishing 7th we were then promoted to 6th due to the driver in front getting a penalty.
Pre-Final
We got a good start making up 1 place on the first lap, then after a few good battles we made up 1 more place finishing 4th overall.
The Final
Starting in 4th we had it all to lose but got a good start and held our position, after a 6 lap battle we finally made the pass and were into 3rd, by this time the leading 2 were a bit too far in front to catch but we pulled a gap on the karts behind and came home 3rd our first podium since moving up to MiniMax.